Recycled Food-Grade 55 Gallon Barrels and Drums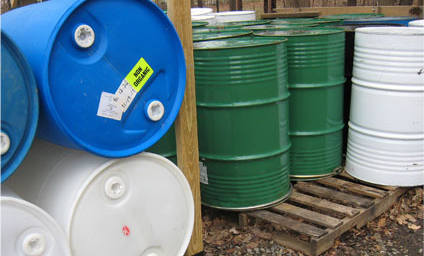 Your source for used and recycled 55 gallon metal and plastic barrels.
All our barrels were used in the food industry and do not contain any toxins or hazardous residue. All our barrels are rinsed clean.
Used barrels are good for storage of water, sap, fuels, household items, animal feed, composting, and hundreds of other uses including dock floats, drain water, rain barrels and brewing to name a few.
See below for details on our used 55 gallon plastic or metal barrels.
55 Gallon Recycled Food-Grade CLOSED HEAD Barrels with 2" Bungs
Plastic 55 Gallon Barrel
Closed head watertight plastic barrel
with 2" diameter bungs and screw in plugs.
$20.00 each

Metal 55 Gallon Drum
Closed head 55 gallon watertight
metal drum with 2" diameter bung,
screw in plug and 3/4" vent plug.
$20.00 each
55 Gallon Recycled Food Grade OPEN HEAD Barrels with LIDS
Plastic Screwtop Barrel
Open head 53 gallon watertight
plastic barrel with screwtop lid.
$25.00 each

Metal Lid Drum
Open head 55 gallon watertight
metal drum with lid and locking ring.
$25.00 each

53 Gallon Rain Barrel
Bottom brass hose faucet
Top screen inlet for rain water
With overflow pipe
$55.00 each
ORDERING INFORMATION
All barrel sizes average approx. 2 feet wide by 3 feet high.


TO ORDER: CALL or E-MAIL (PayPal Available)

Barrels can be picked up at
14 Bank Street, Bennington, VT 05201 (view map)

Please CALL AHEAD and let us know
when you would like to pick up your order.




Open Sunday through Friday 8am to 5pm

All barrel prices are FOB Bennington, VT.

No shipping. Pick up only.


BarrelsForU • 14 Bank Street, Bennington, VT 05201 • 802-375-3688 • Dave@BarrelsForU.com
Open Sunday - Friday 8am to 5pm